7 février 2014 : Today, également connue sous le nom The Today Show, est une émission de télévision matinale américaine. Kiefer parle ici de son rôle de Sénateur Romain corrompu dans le film en 3D Pompeï. Il dit que c'est très bien écrit. Il parle aussi de son retour dans la nouvelle série 24.
February 07, 2014. The Emmy-winning actor joins TODAY to chat about his role in the new 3-D action-adventure film "Pompeii" as a corrupt Roman senator.  Sutherland said the script was "beautifully written." He also talks about the return of his hit show "24."
Source: Zimbio/gettyimages.fr
     Vous êtes vraiment très méchant dans ce film
Kiefer : oui c'est très amusant, c'est un film classique, de genre, et dans ces films il n'y a pas de nuances, on est soit bon soit mauvais, pour un acteur c'est génial à jouer, les dialogues sont riches, bien écrits, je me suis bien amusé
     J'ai lu qu'au début vous étiez un peu sceptique vous pensiez que ce n'était pas pour vous
On me l'avait mal présenté, comme un film d'action et catastrophe, ça ne m'intéressait pas, ce n'est pas ce que je voulais faire, mais on m'a dit tu devrais lire le script et c'est ce que j'ai fait, l'histoire est bien écrite, les personnages développés, donc j'ai vite changé d'avi.
     C'est un film d'effets spéciaux à gros budget
J'ai fait 24 pendant 8 ans donc ça fait longtemps que je n'avais pas fait de film si important, à 1 million de $, c'est très différent de 24 où on tourne très vite, l'équivalent de 12 films par an, là c'est 2 heures pour la même période. Visuellement c'est étonnant et actuel, car les 10 dernières années avec les tsunamis, les séismes on a vu le pouvoir de la nature, donc l'éruption du Vésuve c'est actuel.
     Les gens ont été surpris par le retour de 24
J'ai été surpris aussi, Howard Gordon, le showrunner de 24, aussi auteur de la série à succès Homeland, m'a appelé et m'a dit j'ai une idée pour 12 épisodes, je lui ai dit pourquoi ne pas t'en servir pour Homeland ? il m'a répondu non, c'est vraiment du 24. J'ai pris 3 secondes pour accepter. Ça a été tellement génial de faire cette série, j'aime le personnage et tourner à Londres est un bonus.
     Et le film ?
On est concentré sur les 12 épisodes et je suis nerveux, c'est une grande responsabilité, car nous avons fait 8 saisons dont nous sommes fiers, donc recommencer c'est plutôt dangereux.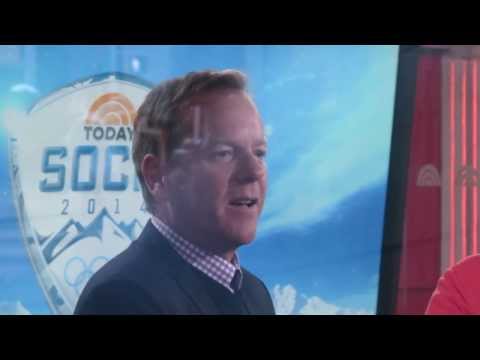 Lors d'une visite au Today Show vendredi , Sutherland a admis que lorsque le scénariste / producteur Howard Gordon de 24 ( qui travaille maintenant sur Homeland ) a appelé et a dit qu'il avait une idée pour 12 épisodes de 24 , l'acteur était « très surpris par » l'idée de faire une neuvième saison du drame à succès .
« J'ai dit : Eh bien, pourquoi ne pas simplement les faire pour Homeland ( et ) il a dit : « Non, c'est vraiment pour  24, « seriez-vous intéressé »», et il m'a fallu en tout trois secondes pour dire , «Bien sûr , bien sûr» dit Sutherland .
Pourrait-il y avoir une saison de 10 ? Sutherland ne le dira pas .
« Je suis concentré sur les 12  épisodes à venir, et je suis nerveux à ce sujet » a-t-il dit . « Nous avons fait huit saisons dont nous étions tous fiers, et ainsi d'ouvrir la boîte à nouveau est potentiellement très dangereux »
Mais il a une autre promo en ce moment, le film » Pompéii « , qui met également en vedette Kit Harington de « Game of Thrones » . L'acteur a révélé qu'il a failli ne pas faire le film , dans lequel il joue un sénateur romain cruel et utilise un accent britannique .
« ça m'a été mal décrit au début » a dit l'acteur  « que c'était un film d'action qui se jette dans un film catastrophe . Et cela ne sonne pas pour moi »
Il a changé d'avis quand il a jeté un coup d'œil au scénario . « L'histoire a été si magnifiquement écrit » a-t-il dit . « J'ai été très chanceux »
« Pompéii » sortira dans les salles le 21 février (19 février en France) et « 24: Live Another Day » Première sur la Fox le 5 mai.
During a visit to TODAY on Friday, Sutherland admitted that when « 24″ writer/producer Howard Gordon (who now works on Showtime's « Homeland ») called and said he had an idea for a 12-episode arc, the actor was « quite surprised by » the idea of doing a ninth season of the hit drama.
« I said, 'Well, why don't you just kind of do them for « Homeland,' (and) he said, 'No, this is really « 24, »' would you be interested,' and it took me all of three seconds to say, 'Sure, of course,' » Sutherland said.
Promo teasers for « 24: Live Another Day » that dropped during the Super Bowl gave fans lots to chew on — namely the London backdrop and that Sutherland's Jack Bauer remains the world's worst traveling companion. (Remember season two's plane crash? His arrest in Africa in « Redemption »? Well, in the new season, he stalks a wrecked London street scene.)
Could there be a season 10? Sutherland won't say.
« I'm focused on these 12, and I'm nervous about it, » he admitted. « We did eight seasons that we were all proud of, and so to open the can up again is potentially very dangerous. »
But he's got a distraction in the form of his upcoming film, « Pompeii, » which also stars Kit Harington of « Game of Thrones » and Carrie-Anne Moss of « The Matrix » fame. The actor revealed he almost didn't do the movie, in which he plays a cruel Roman senator and uses a British accent. 
« It was described to me poorly, » the actor said of the initial pitch. « Which was, it was an 'action movie that runs into a disaster film.' And that didn't sound that appealing to me. »
He changed his mind when he got a look at the script. « The story was so beautifully written, » he said. « I was very lucky. »
« Pompeii » opens in theaters on Feb. 21, and « 24: Live Another Day » premieres on Fox on May 5. today.com