Kiefer Sutherland « Stuck In a Room With Hitler, Stalin, & Nina Myers » // SiriusXM // EW Town Hall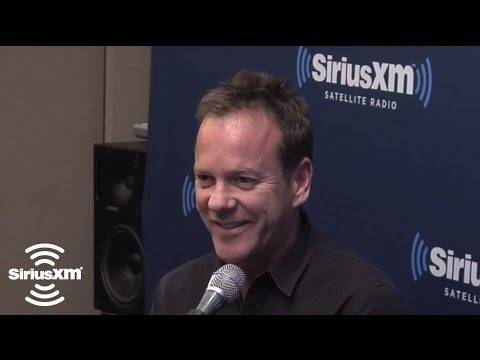 Read more on Monkief (En savoir plus sur Monkief): Kiefer Sutherland sat down with Entertainment Weekly editor Matt Bean for a SiriusXM Town Hall premiering May 2 at 7 p.m. ET on Entertainment Weekly Radio (SiriusXM 105).
"I'm going to have to say Nina Myers because I've never heard jokes about the other characters. I remember I saw on someones tee shirt once "If Jack Bauer had Stalin, Hitler, and Nina Myers in a room and only had two bullets, who would he shoot?" And the answer on the back said "Nina Myers twice". And I thought that was awesome. So I'm going to have to go with Nina Myers, she was the first kind of really bad one." Thanks 24Spoilers
« Je vais dire Nina Myers parce que je n'ai jamais entendu de blagues sur les autres personnages.  Je me souviens avoir vu sur quelqu'un un t-shirt une fois « Si Jack Bauer avait Staline, Hitler, et Nina Myers dans une pièce et avait seulement deux balles, sur qui tirerais-t-il? » Et la réponse sur le dos dit « Nina Myers deux fois« . Et j'ai pensé que c'était génial. Donc, je vais y aller avec Nina Myers, elle a été le premier type de vraiment mauvais « .
« Avez-vous acheté ce T-shirt »
« Non c'était trop embarrassant »