Kiefer Sutherland and Jude Cole penned « I'll Do Anything » for the actor-musician debut album.
Kiefer Sutherland et Jude Cole ont écrit « I'll Do Anything » pour le premier album de l'acteur musicien.
Le morceau « I'll do anything », extrait de son album Down in a Hole. La vidéo pour ce morceau a été filmée sur scène, en noir et blanc, pour donner un véritable effet atmosphérique. Dans son titre-single, Kiefer Sutherland demande à la femme qu'il aime de lui donner sa chance, après qu'il a réalisé qu'il est tombé amoureux d'elle.
« I don't expect that you could love me or even see me in this light »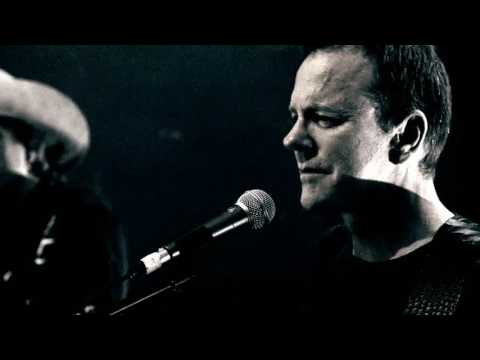 Lyrics :
I've been searching for you all my life
Looked so hard that I went blind
There you were standing in front of me
Right in front of me. For all this time
When my world would come undone
I'd call on you to confide
And all Those nights I spent laughing
There you were right by my side
I love you just the way you are
No, I wouldn't change a thing
And if you'll take me as I am, Girl
I'll do anything, I'll do anything
I don't expect that you could love me
Or even see me in this light
But this feeling's hit me so strong
This feeling that I cannot fight
I love you just the way you are
No, I wouldn't change a thing
And if you'll take me as I am
I'll do anything, I'll do anything, I'll do anything
Leaving all I had behind
Just to make you mine
I've been searching for you all my life
Now the truth can't be denied
Perfect angel, take my hand
And together we can make our stand
I love you just the way you are
No, I wouldn't change a thing
And if you'll take me as I am, Girl
I'll do anything, I'll do anything, I'll do anything, I'll do anything
With a film and television career that has seen him face his fair share of perilous situations while portraying action heroes and the occasional villain, all it takes for Kiefer Sutherland to showcase his most vulnerable side is the subject of love – or the lack thereof. In the tender video for « I'll Do Anything, » Sutherland's unvarnished vocals blend with the song's impassioned, take-me-as-I-am message, delivering a sweet, romantic Valentine that's all about finding the perfect love in the last place you'd think to look.
…
« What I discovered when writing this song, » Sutherland tells Rolling Stone Country, « was that one gets to a point in life – hopefully earlier than later – when everything you need is already around you … if you're lucky. » rollingstone.com