See Top Gear Sunday at 8:00pm on BBC2 – Top Gear dimanche 1 février 2015 à 20h00 sur BBC2
Episode 2 series 22

La version britannique de Top Gear sera bientôt de retour pour une 22ème saison. Top Gear est une des émissions emblématiques de la BBC (Chaine Britanique), diffusée sur la chaîne de télévision BBC Two. Lancée en 1977, elle connaît toujours aujourd'hui un vif succès. L'émission est consacrée aux voitures et au sport automobile.Top Gear a crée le buzz en mettant en scène l'une des stars du programme. Non pas James May, ni Richard Hammond ou encore Jeremy Clarkson, les trois animateurs vedettes du show, mais… le Stig, le désormais célébrissime pilote masqué!
Après des vacances bien méritées au cours desquelles il a parcouru le monde à bord de sa Lamborghini Aventador de location (du Taj Mahal en Inde à la tour de Pise en passant par Sydney), le Stig retrouve le chemin des studios sous le ciel gris et pluvieux de la Grande-Bretagne. Une reprise pied au plancher au volant de la Jaguar F-Type! news.autoplus.fr
Top Gear is a British television series about motor vehicles, primarily cars, and is the most widely watched factual television programme in the world.[2] It began in 1977 as a conventional motoring magazine programme. 24 actor took to the track and looked to be in a stand-off with the enigmatic test driver.
Kiefer's turn on the Top Gear track comes hot on the heels of Ed Sheeran's efforts on last weekend's show – with the pop star getting behind the wheel despite not yet having his driving licence.
He later admitted: 'The reason I said yes to Top Gear was that I thought if would be funny if that was the first time I drive.'
Clad in a black jumper and grey T-shirt, the 24 actor pulled on a tight-fitting safety helmet as he got to grips with the red Vauxhall Astra on the track at Dunsfold Park in Surrey. Luckily the show's resident driving instructor Stig was on hand to offer advice to the American star, who first had to get used to a steering wheel on the other side of the car. Although viewers will have to wait until Sunday night to see what time Kiefer managed, he looked like he was putting the pedal to the metal as he took one of the numerous corners.
@patsharp Hey Keif strong work #TopGear
@mc_intyre1981 @RealKiefer you made my wife's day today, thank you! #TopGear @JeremyClarkson
Stig's Gap Year Vacation – Top Gear Series 22 Teaser – BBC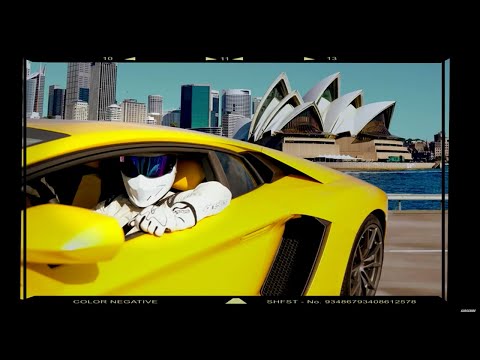 Credits: http://www.mirror.co.uk/ http://www.radiotimes.com/ http://metro.co.uk/ http://www.dailymail.co.uk/