Kiefer Sutherland: Le prix! Petit-déjeuner à l'école: La cause!
Twitter December 23, 2014 (Kiefer Sutherland sur Twitter le 23 décembre 2014)
Kiefer Sutherland @RealKiefer: You could win a trip to LA for a night out w/me, if you dare! Help @HumptyDumptyUSA end child hunger & enter to win: http://Prizeo.com/Kiefer
 Win a Night Out in L.A., If You Dare, with Kiefer Sutherland and support Breakfast At School… Bobby's Breakfast
Help me change lives with The Humpty Dumpty Institute! All you have to do is donate to this amazing cause, and you'll also be automatically entered to win a trip to L.A., where we can go on an ultimate night out together…if you dare! To learn more, go to www.prizeo.com/kiefer
Gagnez une soirée à Los Angeles, si vous osez, avec Kiefer Sutherland et soutenez Petit déjeuner à l'école …
Aidez-moi à changer des vies avec l'Institut Humpty Dumpty! Tout ce que vous avez à faire est de faire un don à cette cause extraordinaire, et vous serez également automatiquement inscrit pour gagner un voyage à Los Angeles, où nous pouvons continuer sur une ultime soirée ensemble … si vous l'osez! Pour en savoir plus, aller à www.prizeo.com/kiefer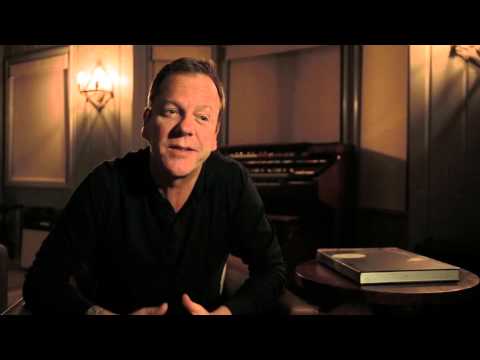 @angelique814
Kiefer Sutherland @RealKiefer stopped by ET to talk battling childhood hunger w/ #BobbysBreakfast & @HumptyDumptyUSA
Learn How You Could Spend the Night Out with Kiefer Sutherland (January 20, 2015)
Traduction en français (Google)
Chances are, you woke up this morning and had breakfast. And chances are, you didn't give that meal much of a second thought. But if you're one of the 49 million Americans who are food insecure, breakfast—and its lack thereof—is your only thought each morning.
This is something Kiefer Sutherland is actively trying to change. "16.1 million children in this country don't know where their next meal is coming from," he tells InStyle. "We live in one of the great countries in the world—certainly one of the most economically strong countries in the world—and it's just something that should not be happening here."
So Sutherland has partnered with Bobby's Breakfast, an initiative of the Humpty Dumpty Institute, to help America become the land of the full bellies. For every dollar donated, Bobby's Breakfast will match it with $22 (so a $10 donation easily becomes a $220 donation). Money will go toward the cost of food, training for staff, and the equipment required to make sure that every family in America has breakfast each morning. "This is something that in one fell swoop we can actually stop," Sutherland says. "That's why I found this opportunity so exciting."
And there's reason for you to find this news compelling too, beyond helping a family in need: Donating large amounts puts you in the running for a night out with the 48-year-old actor. Date night with a former notorious bad boy? Where do we sign up? (Well, right here )
InStyle spoke to Sutherland about why he got involved, where he plans to take his "date," and what he's focusing on now that 24's Jack Bauer may be officially dead.
Tell me about your mom getting arrested for serving breakfast to kids 30 years ago.
It was a very different time, but yes, she ran a series of breakfast programs through the AME (African Methodist Episcopal) churches and those programs were associated very loosely with the Black Panther party. There was a lot of misunderstanding and fear at that time of the Black Panther party, and the program was shut down. So I've known for a long time the profound effect of a child not knowing where their next meal comes from—it has so many different ramifications.
How did you get involved with Bobby's Breakfast "Breakfast at School" program?
I was contacted by them because I knew some people within the foundation and they explained to me what they were trying to do. I don't think they were aware of my mother's legacy with this specific issue, so we started talking about that as well and how this was something really important to me and it grew from there.
Part of the drive for donations is a night out in L.A. with you. What's a night out with Kiefer Sutherland like these days?
Well, this will be a special night. I think they put in there "if you dare," so there must be some sort of requirement that it will be a long night (laughs). But what I really want to do is, because there are some phenomenal restaurants in Los Angeles, I'd like to take whoever wins and their guest for a really nice dinner. And then there's amazing music in Los Angeles too. Most people who come to Los Angeles do not know to go to a lot of the areas I would like to take them to—The Hotel Café, The Silverlake Lounge—so I'd like to hit a couple of those places and give someone a sense of the music scene that's happening here. And there are some great bars that I'd like to take people to that have some fantastic historical significance, usually in the entertainment field. It'd be fun to go someplace and say, "Apparently Humphrey Bogart sat in that booth over there with Lauren Bacall every Thursday night."
What are you working on these days career-wise?
There's a show that I've been developing for the last three years called The Bond, and that's something I hope to start production on halfway through this year. That's what I'm really focused on right now. news.instyle.com