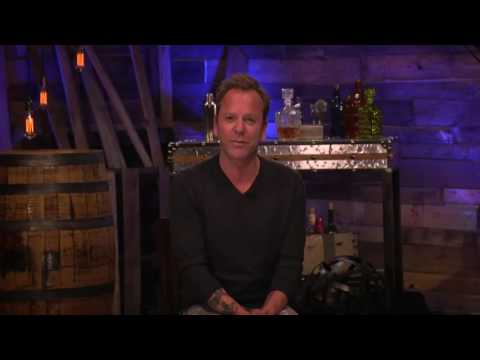 http://kiefersutherlandmusic.com/
L'album de musique country « Down in a hole » chanté et écrit par Kiefer Sutherland sort le 10 juin 2016.
Mieux connu comme acteur, Kiefer Sutherland a poursuivi une carrière musicale secondaire dans les années 2000 et 2010. Sa première tentative musicale professionnelle fut avec le label Ironworks avec son ami Jude Cole au milieu des années 2000, lorsque Sutherland était à l'apogée de son 24 vedettariat. Ironworks a signé Rocco DeLuca comme leur premier artiste, et Ron Sexsmith et Lifehouse, avec l'album Out of the Wasteland en 2015. A ce moment-là, Sutherland a commencé son propre groupe appartenant à l'héritage culturel américain nomé The Kiefer Sutherland Band. Après avoir entendu quelques chansons originales, Jude Cole a encouragé Sutherland pour former le KSB, et le chanteur/compositeur a tourné dans des petits bars en Amérique en 2015. En 2016, Cole a collaboré au premier album de la bande de Kiefer Sutherland, Down in a Hole. ~ Stephen Thomas Erlewine
Down in a Hole, Kiefer Sutherland
Open iTunes to preview, buy, and download music.
1             Can't Stay Away   3:31
2             Truth in Your Eyes  4:22
3             I'll Do Anything  3:21
4             Not Enough Whiskey   3:57
5             Going Home   4:26
6             Calling out Your Name   4:26
7             My Best Friend  4:36
8             Shirley Jean  4:17
9             All She Wrote  4:54
10           Down in a Hole  3:47
11           Gonna Die   3:10          
Genres: Country, Music

Released: Jun 10, 2016

℗ 2016 Ironworks Music. Manufactured and Distributed by Warner Music Nashville, A Warner Music Group Company
Best known as an actor, Kiefer Sutherland pursued a secondary musical career in the 2000s and 2010s. His first professional musical endeavor was forming the Ironworks label with his friend Jude Cole in the mid-2000s, when Sutherland was at the peak of his 24 stardom. Ironworks signed Rocco DeLuca as their first artist, and they'd later have Ron Sexsmith and Lifehouse, the latter releasing Out of the Wasteland in 2015. By that point, Sutherland started his own earthy Americana outfit called the Kiefer Sutherland Band. After hearing a few original tunes, Cole encouraged Sutherland to form the KSB, and the singer/songwriter toured small bars around America in 2015. In 2016, Cole collaborated on the Kiefer Sutherland Band's first album, Down in a Hole. ~ Stephen Thomas Erlewine