Kiefer Sutherland Reveals the Origin of Jack Bauer's Damn It Catchphrase
Jimmy chats with Kiefer Sutherland about returning as Jack Bauer for 24: Live Another Day.
Kiefer Sutherland révèle l'origine de l'accroche Damn It de Kack Bauer.
«Il n'y a pas d'autre juron que vous pouvez utiliser sur le réseau de télévision. Vraiment, il n'y en a pas un seul. Il y avait tant de moments de la première journée que nous avons tourné à maintenant, où non seulement pour personnage, mais pour moi-même comme une nécessité d'obtenir quelque chose de la scène. Et cela a semblé être le mot. Nous n'avons jamais voulu dire cela pour ça devienne aussi populaire. L'ironie, c'est que je pense que ce chiffre est d'environ la moitié du nombre des personnes que j'ai tué sur la série. Vous ne pouvez pas jurer, mais vous pouvez tuer autant de personnes que vous le souhaitez! »
Jack Bauer only started saying his catchphrase "Dammit" because he wasn't allowed to use another expletive – but killing gets the green light
"You can't swear, but kill as many people as you want."
Youtube: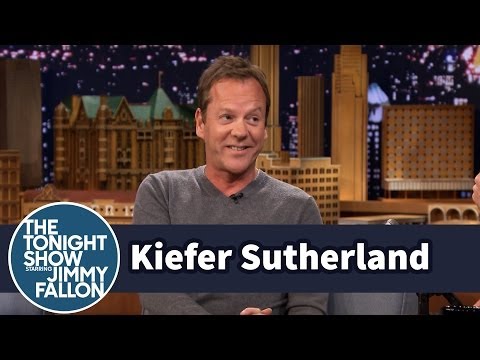 Sur la 1° saison: « En toute honnêteté quand vous faites une série, vous la faites par étapes. Vous faites un pilote, qui est le tout premier épisode. Et puis s'ils aiment le pilote, ils vont prendre les treize épisodes. Et puis s'ils aiment ça, ils prennent la suite; pour nous c'était les onze suivant. Je ne pense pas qu'aucun de nous ait pensé être choisi après pilote, car c'était une série tout à fait différente. Je ne pense pas que quiconque de notre équipe pensait qu'il allait être pris après les 13 premiers épisodes, mais c'est ce qui s'est passé.
Je suis allé voir le créateur, un merveilleux auteur, Joel Surnow et je lui ai dit: « Félicitations, ça va être génial. » Et il m'a regardé, c'est la seule fois que j'ai vu la peur dans son regard. Il m'a dit « Je n'ai aucune idée de ce que nous allons faire pour les prochains 11 épisodes » Et je me souviens de l'avoir regardé en pensant, ce n'est pas le moment de me dire ça! Mais ça a été un honneur absolu et un privilège d'être en mesure de le faire
Sur 24 LAD finale et les twists: «Je pense que c'est comme pour la première saison où ils écrivaient au fur et à mesure, ils peuvent écrire une histoire dans une direction, et quand les choses commencent à être évidentes, ils peuvent partir dans un autre sens. C'est ce qui fait 24 et quelque chose que nous essayons très consciemment de faire avec cette saison. J'espère donc que ça va réussir, nous sommes très excités. J'ai été nerveux les six derniers mois après chaque épisode, parce que nous avons beaucoup de respect pour 24. Reprendre la série m'a rendu nerveux. Maintenant que nous avons terminé,  je veux juste que les gens la voient et j'espère qu'ils aimeront » traduction 24heureschronohommage
Kiefer Sutherland Narrated U.S. World Cup Promos
Jimmy talks to the 24 star about reprising his role as Jack Bauer for 24: Live Another Day and working in England during the World Cup.